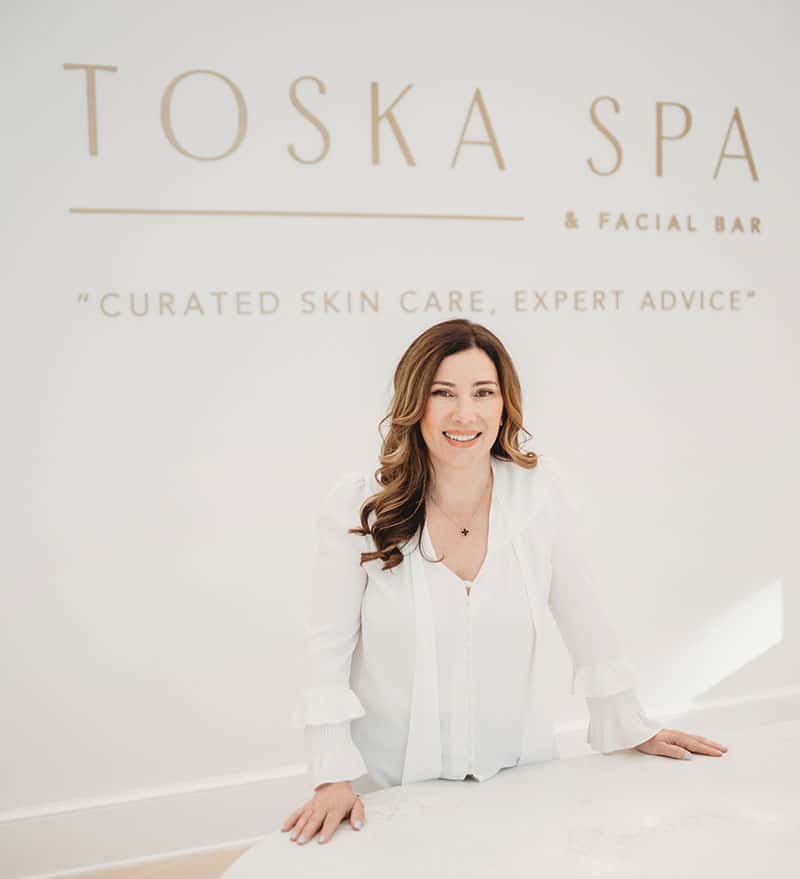 Regarded as one of the world's leading experts in facial skincare, Toska Husted's passion and commitment to providing her clients with the highest quality, results-driven skincare is unparalleled. Toska's journey began over 20 years ago in London, England when she became a graduate of the elite "Steiner" School of Beauty Therapy and Cosmetology, appointed by Queen Elizabeth II. Considered throughout the industry as the "Gold Standard" for wellness, the rigorous program included extensive training in Aesthetic Skin Care, Face Massage, Galvanic, High Frequency and Faradic Facial Treatments, Ultraviolet Light and Infrared Therapy, as well as Creative Makeup. Toska also holds a diploma in Beauty Culture, and received her diploma as a qualified Beautician from the Confederation of International Beauty Therapy and Cosmetology, which is internationally recognized in over 30 countries for its exceptionally high standards, advanced qualifications, and reputation for excellence.
Toska's esteemed reputation is built upon her commitment to offer the finest skincare treatments available for unequivocal results. Through years of experience transforming faces, Toska has developed a truly unique offering of customized treatments and products available only at her luxurious spa. Her expertise in the field of skincare is reinforced through continuous collaboration with industry leaders in key worldwide venues including New York, Paris and London, as well as her persistence in seeking out the latest advancements in products, techniques and technology. Her philosophy that skincare should be prescriptive, customized and consistent, as well as her keen eye for detail, a deep understanding of the skin, and her intuitive nature are what makes her facials extraordinary.
With a notable history of bringing out the youthful glow in the faces of some of the world's most prominent celebrities and public figures, there's no surprise why Toska is the most sought after esthetician for her exclusive customized facials and skincare advice.

Toska has been featured in Forbes, Vogue, Allure, POPSUGAR, BRIDES, American Spa, Byrdie, Southern Living, Marie Claire, Elle and more.

Individualized approach


Toska and her expert staff are dedicated to ensuring your spa experience is undeniably enjoyable, personable, and satisfying. When you visit her luxurious spa in Charlotte NC, you will experience incomparable service and attention: all clients receive a detailed skin analysis, lifestyle consultation, and professional advice on home care beauty routines to maximize the effectiveness of their customized treatment. With an exclusive atmosphere featuring sophisticated private treatment rooms and soothing music, you can be assured that your visit will be a relaxing, pleasurable and enlightening experience.
Toska Spa's Google reviews